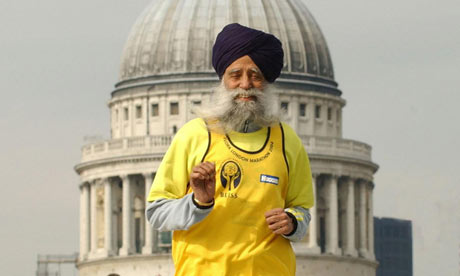 However, the star of the event was disappointed that he did not break the record for the fastest half-marathon in the M90 group (the age group of 90 & above). Currently the record is held by the Swedish Victor Burger for running it in 3:21:17 (in Gothenburg, 2002).

Fauja Singh lost 15 minutes due to an error he made on the route: he ran the route of full-marathon for some time before realizing he was on the wrong route and then headed back to the half-marathon route. This error cost him an extra 1-km, resulting in an additional 15 minutes.

The record for the oldest marathoner is held by the Greek Dimitrion Yordanidis, who in 1976 was 98 years old when he ran the 26-mile marathon in 7:33 hours. Fauja Singh is training to break that record and is considering to run the next NYC Marathon by when he would be 100.

And here I am, still groaning from the bicycle crash I had 2 weeks back.

[Information about this event collected from this
source
. Pics from BBC and The Guardian]